Ever since we offered up two St. Patty's Day Strats on our Kickstarter campaign, I've been obsessing over Fender Stratocasters. Anyone who knows the band well knows that Strats are NOT my go to. I am 100% Telecaster obsessed and will even put my neck out there to snub strats and their inability to meet my needs under all circumstances. 
Until one of the St. Patty's Day Green Strats arrived on my doorstep and I plugged it in and played it. 
Whoopsie. 
Ok ok. I'm willing to admit when I am a belligerent, opinionated, and quite clearly uneducated guitar player, granted twenty years after dissing stratocasters far and wide. And today I am going to track a song with Sibby's 1997 American Sunburst Stratocaster. Of course, I will also track the same song with my 1978 Telecaster Custom Deluxe and post a little video of both so we can all make an educated guess to see which guitar wins the battle! 
I will be honest. I am feeling smitten with the stratty, though, so my ears may not be fully unbiased in the expo. Warning shots fired. #Hendo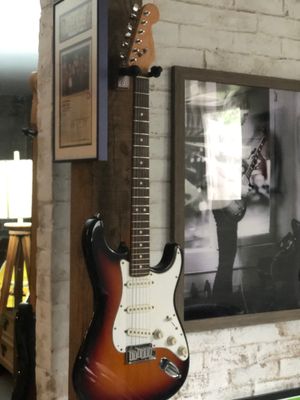 Strat vs. Tele Custom