What light's your fire these days? I feel like I've been "If you Give a Pig A Pancak-ing" around my life. Yes, that book has become a verb for me.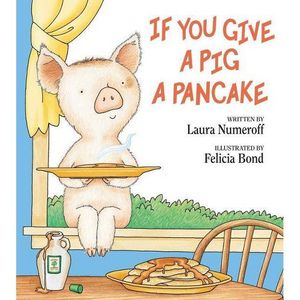 For example, I live in an old house with a fireplace and I haven't lit one fire this season. We have an obscene amount of firewood and not a single fire has been lit. It occurs to me to go light a fire but then I can't find matches. So I go to look for matches and I see that Tucker (the one you CANNOT pet) has peed on the kitchen floor. And then it really spirals because Kate is asking for more time on Tik Tok which reminds me that Aspen has been playing video games upstairs for at least 8 hours straight and I am a shitty mom. 
________________________________________
MEANWHILE, IN THE NEWS NEWS...
Every time I turnaround, my wife is on the news. A lot of people ask me how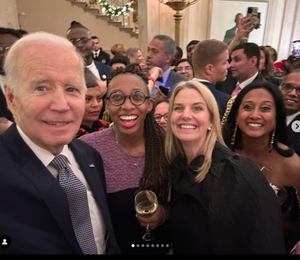 this works.  Honestly, I wonder the same thing, because every time I turn around she's binge watching TV shows with me. I'm not kidding about this. "Dead to Me," "White Lotus," "Harry & Megan." I'm talking current stuff. How are you watching "White Lotus" with me while a selfie with Joe Biden appears on instagram and Joe's the one taking the selfie????? I'm as confused (and impressed) as you all are. 
Last night I was genuinely flipping through the channels and there she was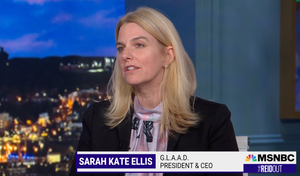 at around 7:30pm on Joy Reid. I looked at my phone because it was still warm from our text exchange about Kate's volleyball game (time stamp 7:28pm, they won) and Aspen's (kinda fake) cold (time stamp 7:29pm). No mention that she was seconds away from stepping onto live television. Was she texting me from the seat at the table while sitting across from Joy Reid? I mean, shouldn't I know that? I get that it's not Diane Sawyer, but still. A quick mention that you're about to go live in case I want to tune in? I mean, God bless her....AND....SCENE. 
____________________________________________________________________________
HANGIN' WITH HENDO - THE PODCAST OF SOME SORT
I just shot Sibby a text because I want to (re) start my own video podcast. Or podcast. I don't really know how it all works. I mean, can a video podcast be an audio podcast? I'm sure it happens and it's just a google search away. I actually think I own "Podcasting for Dummies" and it's on the bookshelf in the same room where I almost lit a fire in the fireplace. Could be kismet.
Ideas for the podcast? I'm not a big researcher, so it's just going to have to be about any of my life's low hanging fruit or things that interest me, because it's all about me and how bored I get in between "gigs." Some ideas for topics include filling my shopping cart at Home Goods and putting it all back on the shelf before I check out with only a couple of picture frames and some caramels that were at the checkout counter. Or obsessing about where to find oversized nutcracker soldiers for my porch, or shoes that will help alleviate my lower back pain (Hoka's, btw, hot tip from Melissa Etheridge...name drop for ratings), or which Pat Benatar album is the best (this debate could go on for weeks). 
If that doesn't interest you, I understand. It's not a life or death thing for me that you tune in. I just feel like I should be doing something during the off time besides cleaning up dog pee and not lighting fires. See what I did there? 
P.S. I think Sibby should be my first guest.  
#Hendo